Location: 
Reading, GB, RG1 3HS
Contracted Hours: 
25 - 39
---
Important reminder: This job requires right to work in the UK.
---
LOVE CYCLING? EXPERIENCED MECHANIC? LOOKING FOR A NEW OPPORTUNITY?
IF YES, THIS COULD BE THE PERFECT ROLE FOR YOU!
As a Bike Mechanic in our workshop you'll be providing high quality bike maintenance and repair services to help our customers enjoy their bikes for longer. To put it simply, the purpose of your role is to diagnose and repair mechanical and electrical problems whilst ensuring that your customers receive the best experience in the process. You'll also be involved in recycling and repairing defective bikes in-store, which means that you'll play an integral part in achieving our collective mission to help preserve our planet.
What will you benefit from?
Career progression - At Decathlon, you choose your own career path, whether you aspire to become our next customer service manager or our next CEO - your opportunities for progression are endless!
Profit sharing scheme - We're one big international family who exclusively shares the profit we make with our employees.
We play sport together and have regular team socials!
Quarterly bonus scheme
Permanent contracts with fair pay - We don't believe in zero-hour contracts.
Cycle to work scheme - 25% discount on a bike of your choice.
30% staff discount on our Decathlon products.
Discover more of our company benefits here.
Your Responsibilities:
Customer Service - Through your own passion for sport, you'll share your tips and experiences with users and through our hands-on product training you will be able to give the best technical advice for the sports you are responsible for. Decathlon has shifted over the last year into an omnichannel business so it's essential that our sales assistants are able to assist customers in all aspects of retail shopping, whether that's in store or online!
Merchandising - Whether full time or part time, every Sales Assistant is encouraged to take responsibility to autonomously manage stock levels and pricing and to provide a high level of merchandising so that each customer can easily find the right product for their sporting practice.
Team Player - You will be part of a shop floor team of like-minded Sales Assistants, practicing sport and celebrating victories together, so it's important that you are able to work well within a team environment as well as independently.
  Sound good so far? If so, here's the type of person we're looking for…
  Who Are You? 
Someone looking to combine a passion for sport with work.
A people person who is prepared to go the extra mile.
Someone looking for a retail career with a difference
Problem solver with excellent communication skills.
Able to play as part of the team during the busiest times (weekends and holidays).
Additional Information:
As a Bike Mechanic, you will be required to work usual retail hours including evenings and weekends. The role will be shop-floor based with full Covid-19 safety regulations and precautions in place. The safety of our teammates and customers is our main priority during these times.
IF YOU LOVE BIKES AND WANT AN EXCITING CAREER IN BUSINESS, APPLY TODAY!
---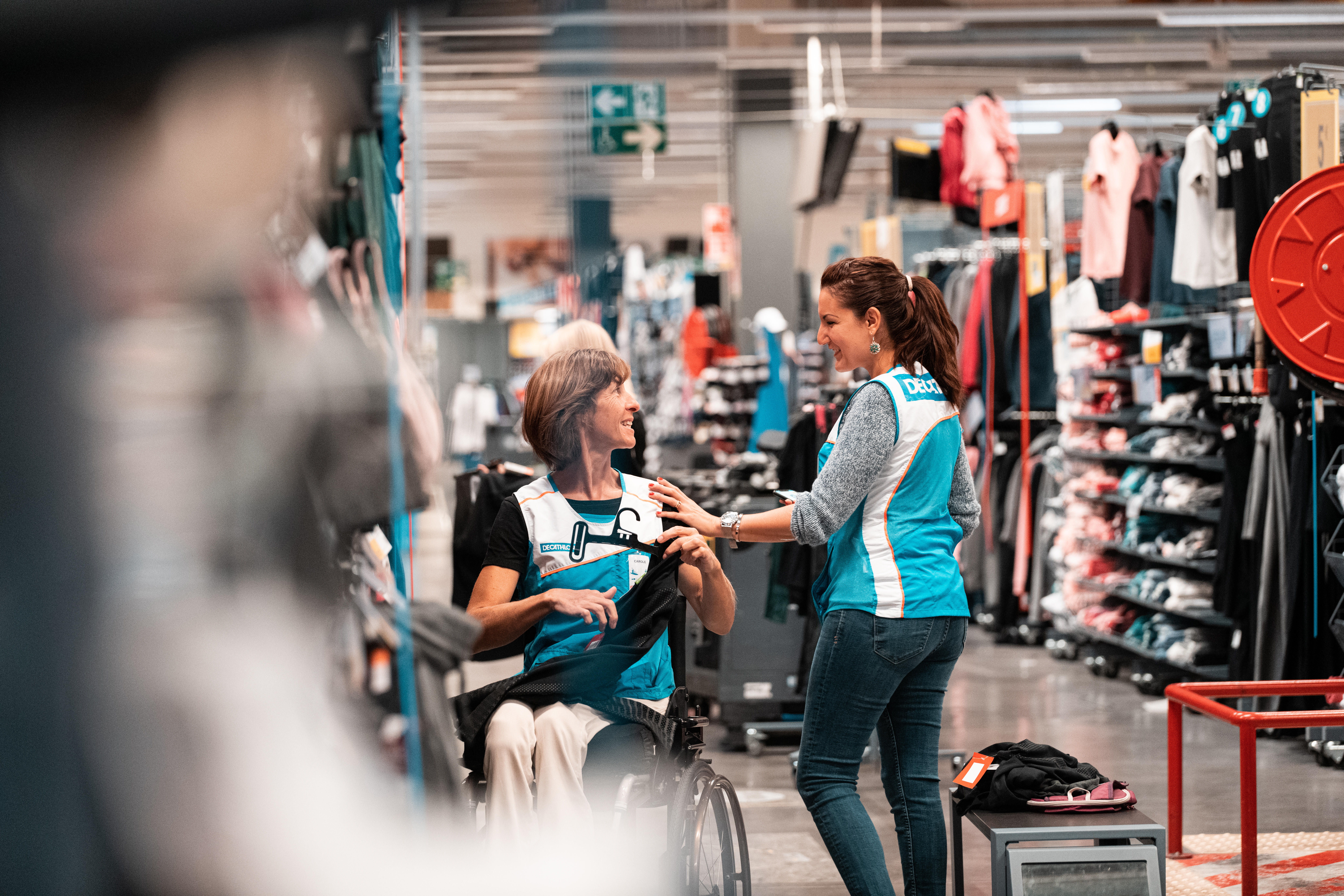 Decathlon is committed to inclusion and non-discrimination, and thus acts on a daily basis in favor of disability, a multi-generational workforce, social diversity, and equality between women and men. If, due to a disability, you require any special accommodations during the recruitment process, please let us know. At Decathlon, first and foremost, we are recruiting personality and character.